Apfelpfannkuchen Recipe
(German Apple Pancakes)
When my dear Imke first made this Apfelpfannkuchen recipe for me, I knew I had to add it to my site. These German apple pancakes are a delicious treat at any time of the day, but do make for a particularly wonderful breakfast.
Tastes will vary when it comes to how well to fry the apple slices. I prefer them darkly fried around the edges, so I give them some time before adding the batter on top of them. Keep in mind that they will continue to cook as the batter does, so don't let them get to dark on their own, or they my burn while you wait for the pancake to set.
Flipping these pancakes is made much easier if you are careful to leave space between your apple slices to avoid creating weak seams in the cooking batter. Whether you use a wide spatula to flip, or just a flick of the wrist, is up to you.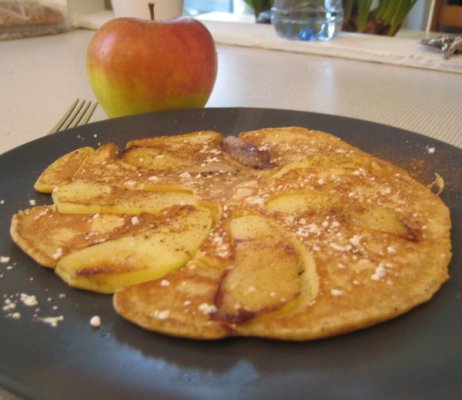 Batter Ingredients:
2 Eggs
1 cup of Flour
1 cup Milk
1 tsp of Powdered Sugar
Additional Ingredients:
1 Large Apple
2 Tbsp Butter
Powdered Sugar
Powdered Cinnamon
Instructions:
Peel, core and slice apple
Mix all Batter Ingredients
Melt 1/2 Tbsp of Butter in Skillet on med-high heat
Arrange 1/4 of Apple Slices in desired non-touching pattern in hot Skillet
Allow Apple Slices to fry for 30-45 seconds
Pour about 1/4 of Batter into Skillet, allowing apple slices to peak out above batter
When edges are dry and the center has mostly set, carefully flip pancake
After an additional minute, remove Skillet from heat
Slide Pancake onto serving plate
Add another 1/2 Tbsp of Butter to Skillet for each new pancake
Dust Pancakes with Powdered Sugar and Cinnamon
Serve
Share your experience with this recipe?
Did you try this recipe for yourself? Help other visitors by sharing your tips, variations, and photos.
Other Visitors' Experiences with this Recipe
Click below to see feedback and photos from other visitors...

Confused about apple slices

The recipe only mentions what to do with 1/4 of the apple slices. What about the rest?
could be improved Not rated yet
While the flavor was nice, the pancake separated immediately when trying to flip it. Doesn't it need some baking soda or something to raise it a little, …
From Apfelpfannkuchen Recipe
Back to Breakfast Treats


Back to German Recipes Homepage