Apple Strudel Recipe
(Apfelstrudel)
This traditional apple strudel recipe includes a hand-pulled Blätterteig that is much easier than you might imagine. Unlike other homemade phyllo dough strudel recipes, you don't need a huge surface to stretch out this dough. Each of the two dough portions in this recipe can be stretched out on almost any kitchen counter. Don't let the stretching intimidate you. It is well worth a the minimal extra effort. There is nothing more inviting after a nice German meal than a slice of warm Apfelstudel with a scoop of vanilla ice cream.
The ground walnuts help to absorb excess juice from the cooking apples and add a great extra bit of flavor, but if you need a nut-free strudel, feel free to substitute fine bread crumbs.
For a bit of a less traditional twist on this apple strudel recipe, try substituting pears and dried cranberries for the apples and raisins.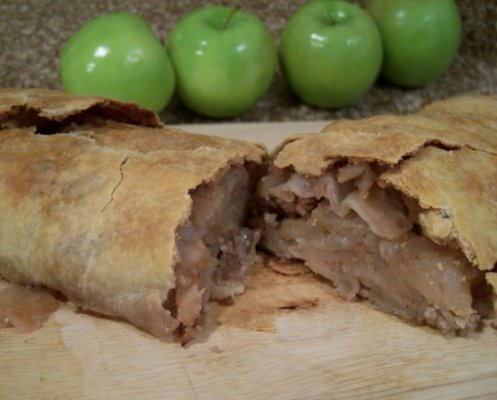 Dough Ingredients:
2 cups of Flour
1 Tbsp of Melted Butter
1 Tbsp of Apple Cider Vinegar
1 Tbsp of Olive or Vegetable Oil
1 Egg Yolk
1/4 tsp of Salt
3/4 cup of Warm Water
Filling Ingredients:
2 lbs of Apples
1 cup of Sugar
1 tsp of Ground Cinnamon
1/2 tsp of Ground Nutmeg
Prep and Baking Ingredients:
1/2 cup Flour
1/4 cup of Melted Butter
1 cup Ground Walnuts
1/4 - 1/2 cup of Golden Raisins (to taste)
1 Egg White
Optional Sauce Ingredients:
Excess Juice from Apple mixing bowl
1/2 cup Heavy Cram (or Milk)
1 tsp of Vanilla
3 Tbsp of Flour
Apple Strudel Recipe Instructions:
Mix all Dough Ingredients
Knead on lightly floured counter or board for 3-5 minutes
Divide Dough into two equal halves
Knead each half for an additional minute and form into ball
Brush dough balls with Butter and let sit for 45 minutes
Core, peel and slice Apples
Place slices in large mixing bowl
Add Sugar, Cinnamon, and Nutmeg to bowl
Mix filling thoroughly, cover, and set aside
Brush one Dough Ball with Melted Butter
Roll out on clean, lightly-floured pastry board or counter
Using the back of your hands, gently stretch Dough until 16" by 18"
Brush stretched Dough with melted butter
Let stretched Dough sit for 10 minutes
Sprinkle 1/2 cup Ground Walnuts over stretched Dough
Squeeze the excess liquid from a handful of Apples back into bowl
Spread Apples on Dough
Repeat until half of Apple Filling is used and Dough is thinly covered with Apples
Sprinkle half of Golden Raisins over Apple-covered Dough
Carefully roll Strudel and place on one half of greased baking sheet
Repeat for second Strudel
Set aside excess juice in bowl for optional sauce
Brush both Strudels with egg white
Place in oven preheated to 425 F
Bake for 30-35 minutes
Serve warm, in 2-inch slices, topped with Powdered Sugar
Optional Sauce Instructions:
Pour excess Juice into a sauce pan
Add Cream and Vanilla to sauce pan
Whisk in Flour
On medium-high heat, bring sauce to a boil, while stirring
Remove pan from heat
Add additional Flour or Cream as needed to achieve desired thickness
Drizzle Sauce over Strudel just before serving

Share your experience with this recipe?
Did you try this recipe for yourself? Help other visitors by sharing your tips, variations, and photos.
Other Visitors' Experiences with this Recipe
Click below to see feedback and photos from other visitors...

Best way to start your day Not rated yet
My husband loves German food! When I found this site with so many wonderful recipes I knew I had all the help I needed. My husband asked me to make an …
Beautiful Pastry Recipe! Not rated yet
I was stuck in the house without all the ingredients for the filling, so improvised slightly there, but the pastry worked beautifully! I must also try …
From Apple Strudel Recipe
Back to Strudel Recipes Page

Back to German Recipes Homepage