Poppy Seed Strudel Recipe
(Mohnstrudel)
This poppy seed strudel recipe showcases the distinctive taste of poppy seed filling that is so popular in European sweets rolled inside a yeast dough crust. Unlike many recipes, this one does not skimp on the poppy seed. This is not like wimpy poppy seed muffins or bagels that really use the fragrant seed only for some added color or texture. This strudel really lets you taste the poppy seeds. I am a huge fan of poppy seed desserts and like to see the thick swirls of tasty black poppy seed filling in this strudel. Yum!
I sometimes like to make one strudel with raisins and one without, just in case anyone is not a fan of raisins. You can also sprinkle on some chopped walnuts before rolling, for a bit of extra texture.
This poppy seed strudel recipe can be easily altered for a variety of other strudel fillings.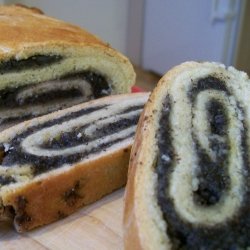 Dough Ingredients:
3 ½ cups of All-Purpose Flour
1 tsp of Salt
1 packet of Active Dry Yeast (¼ oz)
1 cup of Milk
¼ lb (1 stick) of melted Unsalted Butter
2 Egg Yolks
Filling Ingredients:
1 1/2 cups of Ground Poppy Seed
1 cup of Sugar
1 cup of Water
3 Tbsp of Melted Butter
1 tsp Vanilla Extract
2 Tbsp of Honey
1 Tbsp Lemon Juice
1/4 cup Spiced Rum
Prep and Baking Ingredients:
1/2 cup Flour
1/4 - 1/2 cup of Golden Raisins (to taste)
1 Egg White
Poppy Seed Strudel Recipe Instructions:
In a small bowl, mix Dry Yeast with a pinch each of Flour, Sugar, and salt
Mix in 1 Tbsp of warm Water
Set Yeast mixture aside for 10 minutes to activate
Mix Flour and Salt in large mixing bowl
In a sauce pan, mix Milk, melted Butter, and lightly beaten Yolks
Stir over low heat until warm
Form a hollow in the center of the Flour mixture
Pour frothy Activated Yeast mixture into hollow and cover with Flour
Add Milk mixture to Flour and mix into a Dough
Beat for 5-10 minutes then cover
Set covered Dough in a warm place and let rise for 1 hour
In a sauce pan, mix Sugar and Water for filling
Bring Sugar/Water mixture to a boil then reduce heat
Mix in Poppy Seed and other filling ingredients (except Rum)
Stir on low heat for 5 minutes
Remove from heat, stir in Rum, and set aside
Fold risen Dough several times
Moved Dough to lightly floured counter or pastry board and knead from 5 minutes
Divide Dough in two equal halves and knead each half again briefly
Form both halves into balls and let rest for 5-10 minutes
On lightly floured surface, roll one Dough Ball out with rolling pin until about 12" by 18"
With a spatula, spread half of Filling over surface of Dough leaving 1/2 inch clean edges
Sprinkle half of Raisins over surface
Gently roll Strudel from narrowest end forming a 12" long roll
Place Strudel in half of a greased and floured baking pan
Repeat process for second Strudel
Brush Strudel with lightly beaten Egg White
Turn on oven and allow rolled Strudel to rest until oven is preheated to 350 F
Place Strudel pan into oven
Bake for 45 minutes to an 1 hour
Remove pan from oven and let cool for 5 minutes
Remove Strudel from pan and place on cooling rack or dry cutting board
Serve warm or room temperature, in 3/4-inch slices, topped with Powdered Sugar


Share your experience with this recipe?
Did you try this recipe for yourself? Help other visitors by sharing your tips, variations, and photos.
Other Visitors' Experiences with this Recipe
Click below to see feedback and photos from other visitors...

From Poppy Seed Strudel Recipe
Back to Strudel Recipes Page


Back to German Recipes Homepage