Bratkartoffeln Recipe
(German Roasted Potatoes)
This Bratkartoffeln recipe for German roasted potatoes is one of the recipes I prepare most often as it is relatively easy to prepare, tastes wonderful, and goes well as a side dish for so many of my favorite German entrees.
The boiling of the potatoes is important in making excellent Bratkartoffeln. The potatoes can be slightly underboiled, as they will continue cooking in the skillet. If they are boiled too long, they will tend to get mushy or brittle and then break apart in the skillet during roasting.
When frying / roasting the potatoes, do not be too afraid to burn them a bit in places. Ideally they will be a nice mix of dark brown, crispy sections and softer lightly-browned centers.
One nice option that can add a nice rich flavor is to saute half of an onion (finely diced)in the oil prior to adding the potatoes to the skillet.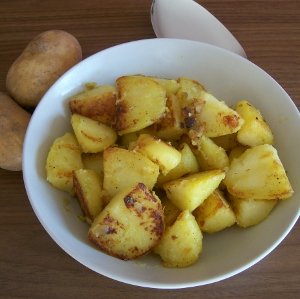 Ingredients:
2 lbs of Potatoes/p>
3 Tbsp of Oil
Salt and Pepper to taste
Instructions:
Thoroughly clean Potatoes
Quarter Potatoes (depending on size)
Put Potato pieces in large pot and cover with water
Bring Water to rapid boil
Reduce to med-high heat
Boil for 10-15 minutes
Strain Potatoes and shock quickly with cold tap water
Remove skins and spots from Potatoes
Add oil to large skillet and heat to med-high heat
Add peeled Potatoes to hot skillet
Salt liberally and Pepper to taste
Allow to fry until browned before flipping/stirring
Continue to brown, stirring occasionally until done
Move to warmed serving bowl
Serve
Share your experience with this recipe?
Did you try this recipe for yourself? Help other visitors by sharing your tips, variations, and photos.
Other Visitors' Experiences with this Recipe
Click below to see feedback and photos from other visitors...

From Bratkartoffeln Recipe back to Potato Side Dishes


Back to German Recipes Homepage