Kartoffelpuffer Recipe
(German Potato Pancakes)
This Kartoffelpuffer recipe for German potato pancakes is the one I uncovered that most closely resembled the deliciously crispy and chewy treats served at most winter festivals and Christmas Markets in throughout Germany and Austria. They work well as a side dish, but are commonly served on there own with a side of apple sauce, cranberry sauce, or another fruit preserve.
Be sure to get some of the excess moisture out of the grates potatoes prior to adding the egg and flour, as this helps ensure a crispy crust. If the mixture is to watery, the Reibekuchen will tend to turn out a bit on the floppy side. They will still taste great, but will not have that nice snap to them that I like so much.
Although often served as a finger food at markets and fairs, Kartoffelpuffer are quite greasy, so I would suggest not letting any little ones eat them as finger food anywhere near your nice upholstery.
It should not come a s a surprise that this recipe and description are roughly the same as those for the Reibekuchen recipe. Indeed, throughout most of Germany, the terms Kartoffelpuffer and Reibekuchen are used pretty much interchangeably. The primary reason for including the recipe under both names was to make it easier for those of you searching for one name in particular to find the recipe you wanted. i hope it worked.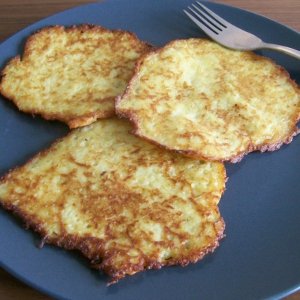 Ingredients:
2 lbs of Potatoes/p>
1 Large Onion
2 Eggs
4 Tbsp of Flour
1 tsp Salt
Additonal Salt and Pepper to taste
Instructions:
Peel Potatoes
Finely grate Potatoes and Onion together
Squeeze excess moisture from grated mixture
Lightly beat Eggs
Mix Egg, Flour, and Salt into grated mixture
Heat 3-4 Tbsp of Oil or Fat to med-high heat
Spoon 1/4 Cup of mixture into skillet and press flat with fork
Fry until edges are dark brown then flip
Fry additional 2-3 minutes
Place fried Kartoffelpuffer on paper towels to drain excess oil
Serve as side dish or alone with Apple Sauce or Berry or Fruit Compote
Share your experience with this recipe?
Did you try this recipe for yourself? Help other visitors by sharing your tips, variations, and photos.
Other Visitors' Experiences with this Recipe
Click below to see feedback and photos from other visitors...

Childhood revisited Not rated yet
Thank you for this recipe, it reminded me exactly of the potato pancakes my mother made when I was a child.
Great german food Not rated yet
I was born in Germany..My mom was a native.. While we were there..I learned to love the food thanks for the recipes. This is my favorite potato style. …
From Kartoffelpuffer Recipe back to Potato Side Dishes

Back to German Recipes Homepage