Salzkartoffeln Recipe
(German Boiled Potatoes)
This Salzkartoffeln recipe for boiled potatoes makes one of the staple side dishes on any German menu or in any German kitchen. With only two ingredients and limited prep time, it is also one of the simplest to prepare.
As with potato salad, the selection and cooking of the potatoes are key elements in making excellent Salzkartoffeln. Russets and other baking potatoes can be used, although be sure not to overcook them, as they will tend to get mushy or brittle. You might be best off with boiling potatoes, such as round white or round red potatoes, although most all potatoes will work if you adjust the boiling time
Many recipes cal for you to peel the potatoes prior to boiling. I find it much easier, and less wasteful, to boil them with the skins on, shock them with cold water after boiling and quickly remove the thin skins with the edge of a knife just prior to serving. Feel free to peel them ahead of boiling if that works better for you.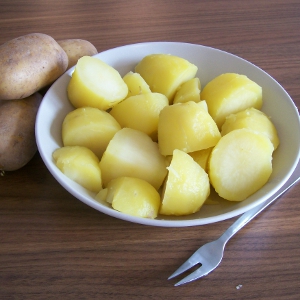 Ingredients:
2 lbs of Potatoes/p>
1 Tbsp of Salt
Additional Salt to taste
Instructions:
Thoroughly clean Potatoes
Halve or Quarter Potatoes (depending on size)
Put Potato pieces in large pot and cover with water
Add 1 Tbsp of Salt to pot
Bring Water to rapid boil
Reduce to med-high heat
Boil for 15-20 minutes
Strain Potatoes and shock quickly with cold tap water
Remove skins and spots from Potatoes
Place skinned Potatoes in serving bowl
Lightly salt
Serve
Share your experience with this recipe?
Did you try this recipe for yourself? Help other visitors by sharing your tips, variations, and photos.
Other Visitors' Experiences with this Recipe
Click below to see feedback and photos from other visitors...

Type of Potato to use Not rated yet
Hello! First, thank you for all of the recipes! Now... You don't mention what kind of potato to use, but I would recommend Yukon Gold potatoes. They …
Perhaps I am missing something. Not rated yet
1 tbsp of salt? For enough water to boil two pounds of potatoes? Seems to me you would hardly notice that little salt. 1/4 cup would be enough to …
From Salzkartoffeln Recipe back to Potatoes Side Dishes


Back to German Recipes Home