German Beet Salad Recipe
(Rote Beete Salat)
The light tartness of the vinegar in this German beet salad recipe gives it a wonderful sweet-and-sour quality. As with other beet recipes, this tasty side dish also adds great color to liven up any meal plate.

Beets are known regionally as Rote Beete, Rote Rüben, or Rohnen. Regardless of what they are called, beets are a delicious and nutritious option for salads, soups, and side dishes. With a typical sugar content of about 10%, the mild sweetness of red beets can be cleverly combined with savory and/or sour ingredients to create a variety of interesting flavor combinations.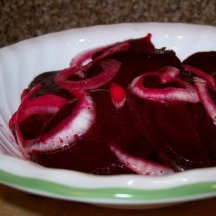 Ingredients:
5 large Beets
1 medium White Onion
3 Tbsp of Vegetable Oil
3 Tbsp of White Wine Vinegar
1 cup of Water
Pinch of sugar
Pinch of Caraway Powder
Salt to taste
Instructions:
Remove leaves and stems from Beets
Wash Beets
Steam Beets 20-30 minutes, until cooked tender throughout
Run cold water over steamed Beets to ease peeling
Peel beets and slice into thin (1/8 inch) rounds
Peel, slice and separate Onion
Mix Onion ringlets with Beet slices
In a separate bowl, whisk together Vinegar, Oil, and Water
Stir in Sugar and Caraway Powder
Stir in Salt to taste
Pour Vinegar and Oil mixture over still warm sliced Beets
Let stand for several hour to allow Beets to absorb flavors
Serve
Share your experience with this recipe?
Did you try this recipe for yourself? Help other visitors by sharing your tips, variations, and photos.
From German Beet Salad Recipe
Back to Other German Salads Page

Back to German Recipes Homepage