Tomato Salad Recipe
(Tomatensalat)
This simple and refreshing tomato salad recipe is typical of the uncomplicated salads that accompany most meals in Germany and Austria. Often this salad will be served alongside one or two other simple salads to give diners a variety of taste options. Try serving this tomato salad with the cucumber salad recipe available on this site. The combination of colors and flavors makes for a very inviting salad bowl.
Feel free to use Beefsteak, Roma, or Vine Ripened tomatoes for this recipe. The important thing is to select tomatoes that are ripe but still firm. Over-ripe tomatoes will be too juicy and soft, robbing eaters of the nice crispness of this salad, when made correctly.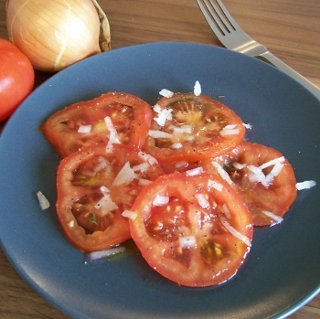 Ingredients:
1 ½ to 2 lbs of firm ripe Tomatoes
1 small White Onion
Black Pepper
3 Tbsp of Vegetable Oil
3 Tbsp of White Wine Vinegar
Pinch of sugar
Salt to taste
1 Tbsp of minced Parsley
Instructions:
Wash Tomatoes and slice thinly with a sharp knife
Peel and finely dice Onion
Layer Tomato slices on bottom of serving dish
Scatter some Onion over first Tomato layer
Sprinkle Black Pepper over first Tomato and Onion layer
Repeat layering until all Tomato and Onion are used
In a separate bowl, whisk together Vinegar and Oil
Stir in Sugar
Stir in Salt to taste
Pour Vinegar and Oil mixture over layered Tomato salad
Sprinkle minced Parsley over salad
Serve
Share your experience with this recipe?
Did you try this recipe for yourself? Help other visitors by sharing your tips, variations, and photos.
Other Visitors' Experiences with this Recipe
Click below to see feedback and photos from other visitors...

Excellent ! Not rated yet
Quick simple and everyone loved it. Will make again !
From Tomato Salad Recipe
Back to Other German Salads Page

Back to German Recipes Homepage