German Cucumber Salad Recipe
(Gurkensalat)
Gurkensalat is a summer favorite throughout Europe. This simple German cucumber salad recipe can be ready in minutes and is a great alternative to a boring lettuce salad. One of the simplest and tastiest cucumber recipes I have found, it makes a great last minute addition to a barbecue or sit-down meal.
Whether you are using a store-bought cucumber or one straight from your garden, be sure to test the end slices for taste. Eliminate any part of the cucumber that is too bitter before starting your cucumber salad recipe.
For a punch of crunch and color, slice up some yellow and red peppers as garnish.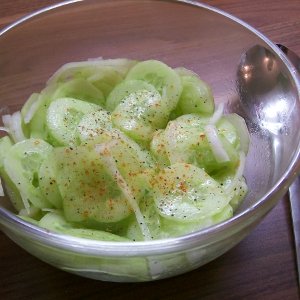 Ingredients:
1 large Cucumber
1 small White Onion
1 Clove of Garlic
3 Tbsp of Vegetable Oil
3 Tbsp of White Wine Vinegar
Pinch of sugar
Salt to taste
1 Tbsp of minced Dill
Black Pepper
Sweet Paprika
Instructions:
Peel and crush Garlic
Rub inside of a serving bowl with Crushed Garlic
Finely chop Garlic and spread on bottom of serving bowl
Wash and peel Cucumber
Thinly slice Cucumber
Taste test end slices for bitterness
Discard slices that are excessively bitter
Place remaining slices in serving bowl
Peel, halve, slice and separate Onion
Add Onion half-rings to serving bowl
In a bowl, whisk together Oil, Vinegar, Sugar, and Salt
Pour Vinegar and Oil mixture over Cucumber and Onion
Sprinkle minced Dill over salad
Gently fold salad until well mixed
Sprinkle Black Pepper and Sweet Paprika over salad
Serve with slotted spoon
Share your experience with this recipe?
Did you try this recipe for yourself? Help other visitors by sharing your tips, variations, and photos.
Other Visitors' Experiences with this Recipe
Click below to see feedback and photos from other visitors...

Alternate Recipe

This is a great recipe. I am both German and Austrian Desent. Mother born in West Germany, and Father Austria. The cucumber salad recipe passed down …
another option

My Mother used to cut the Cucumber and salt them in a bowl for 1/2 hr till they let go of a lot of water then she rinsed them and placed them in a clean …
Perfect Not rated yet
This is an extremely simple but spot on recipe for cucumber salad, the oil is critical. Sometimes we add a bit more sugar. Thanks!
From German Cucumber Salad Recipe
Back to Other Salads Page

Back to German Recipes Homepage