Lebkuchen Recipe
Spiced Christmas Cookies
This Lebkuchen recipe helps you to create one of the signature German Christmas treats. These soft and chewy spiced holiday cookies can be found in all variety of shapes and sizes throughout the holiday season. Feel free to use cookie cutters to create your own mix of shapes. Large baking wafers can easily be cut with kitchen scissors to serve as the base for any form.
Although this Lebkuchen recipe results in the popular and traditional glazed Lebkuchen, they are often also found either totally coated in chocolate, or with a chocolate-dipped base. This can also be accomplished at home by slowly melting you choice of chocolate (I prefer dark) and either carefully dipping your cooled Lebkuchen or brushing them with chocolate using a pastry brush.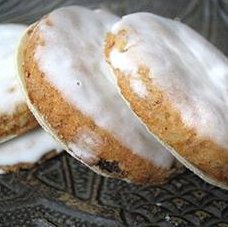 Dough Ingredients:
2 cups of Flour
1 tsp Baking Powder
1 Cup of Sugar
4 Eggs
1 Vanilla
Ground Almonds (8 oz Package)
Lemon Zest from 1/2 a Lemon
1/4 cupCandied Orange Peel (finely chopped)
1/4 cup Candied Lemon Peel (finely chopped)
1 tsp Gound Cinnamon
1/4 tsp Ground Clove
1/4 tsp Allspice
1/4 tsp Cardamom
30-50 Baking Wafers: 70mm (Back Oblatten)
Glaze Ingredients:
1 1/2 cups Powdered Sugar
2 Tbsp of Lemon Juice
2 Tbsp of Hot Water
Instructions:
Preheat Oven to 350 F
Sift together Flour and Baking Powder and set aside
In a large mixing bowl, mix together Eggs, Sugar and Vanilla until creamy
Mix in Almonds, Zest, Candied Peel and Spices
Gradually mix in Flour/Baking Powder mixture
Mix thoroughly into a smooth dough
Spread dough 1/2 inch thick onto Baking Wafers
Place on ungreased cookie sheet
Bake at 350 F for 15-20 minutes
Remove from oven and allow to cool
While Lebkuchen are cooling, prepare Glaze (see below)
Brush thin layer on glaze on cooled Lebkuchen
Allow Glaze to harden before serving or storing
Glaze Instructions:
Add Sugar, Lemon Juice and Water to mug or small bowl
Beat together with small wisk until smooth
Brush onto cooled Lebkuchen
Share your experience with this recipe?
Did you try this recipe for yourself? Help other visitors by sharing your tips, variations, and photos.
From Lebkuchen Recipe back to German Cookie Recipes
Back to German Recipes Homepage