Vanillekipferl Recipe
Almond Crescent Cookies
This Vanillekipferl recipe (Vanillehornchen) comes directly from Oma's recipe box. These powdered sugar covered almond crescent cookies (along with Linzer Augen) always dominated the Christmas cookie tins sent or set out every year. Made perfectly these cookies are very delicate, but that means that they leave behind some tasty crumbs.
Don't forget that you will need quite a bit of extra powdered sugar for dusting after baking. The powdered sugar listed in the ingredients is just what is used for the actual making of the dough. Oma used to store her Vanillekipferl just about buried in powdered sugar and pulle them out to serve.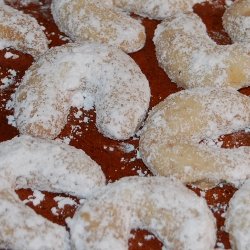 Dough Ingredients:
2 cups of Flour
2/3 cup of Powdered Sugar
1 Egg Yolk
1 Tbsp of Vanilla Extract
1/4 tsp of Salt
1/2 lb of softened Unsalted Butter
1 1/2 cups of ground Raw Almonds
Instructions:
Mix all Dough Ingredients
Knead in Mixing Bowl for 3-5 minutes
From crumbly dough into a large ball
Cover Dough Ball and place in fridge for 1 hour
Remove Dough from fridge and uncover

Form small (1-2 Tbsp) Balls of dough (will still be somewhat crumbly)
Mold each small Dough Ball into a crescent shape
Carefully place Crescent on greased baking sheet
Bake Crescents 10-15 minutes at 350 F
Place still hot Crescents on a plate or dish dusted with Powdered Sugar
Liberally dust Crescents with more Powdered Sugar
Cool at room temperature
Serve
Share your experience with this recipe?
Did you try this recipe for yourself? Help other visitors by sharing your tips, variations, and photos.
Other Visitors' Experiences with this Recipe
Click below to see feedback and photos from other visitors...

My Vanille Kipfel aka Moon Cookies

These Cookies are from my Mother and Grandmother. I have simplified the works to cut down on excessive handling of the Cookies. Since the Powdered Sugar …
Powdered sugar Not rated yet
Powdered sugar should be powdered vanilla sugar
From Vanillekipferl Recipe back to German Cookies Homepage
Back to German Recipes Homepage