Pfeffernusse Recipe
This Pfeffernusse recipe makes the spicy and nutty round Christmas cookies that are popular throughout Germany and the rest of northern Europe during the holiday season. Although the name means "pepper nuts", may modern recipes call for no pepper, and some do not include nuts. This traditional recipe calls for both.
These cookies can be very hard to chew when freshly baked, but tend to soften up over time, so I would suggest baking then a week before you plan to serve or eat them.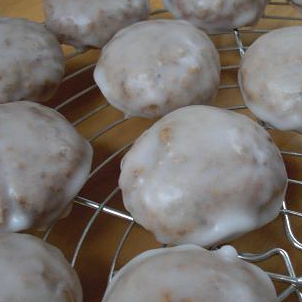 Dough Ingredients:
2 Eggs
1 cup of Sugar
2/3 cup Ground Almonds
1/2 tsp of Cinnamon
1/4 tsp Ground White Pepper
1 tsp of Grated Lemon Peel
2 1/2 cups of Flour
1/2 tsp of Baking Powder
Glaze Ingredients:
4 tsp of Lemon Juice
1/2 cup of Powdered Sugar
Instructions:
Preheat over to 350 F
Mix together Eggs and Sugar until creamy
Add Almonds, Cinnamon, Pepper and Lemon Peel
Separately, mix together Flour and Baking Powder
Add Flour mixture to Egg mixture
Knead until smooth
With floured hands, roll dough into tsp sized balls
Place balls on greased and floured baking sheet
Bake at 350 F for 12-15 minutes
While Pfeffernusse are baking
Mix Powdered Suger with Lemon Juice
Remove Pfeffernusse from oven
While still warm, Brush with Glaze
Allow to cool and harden before packing and storing
Share your experience with this recipe?
Did you try this recipe for yourself? Help other visitors by sharing your tips, variations, and photos.
Other Visitors' Experiences with this Recipe
Click below to see feedback and photos from other visitors...

Yummy! Not rated yet
I made these cookies today and they turned out well! I made them gluten-free by using King Arthur's Gluten free flour blend substituted in for the regular …
From Pfeffernusse Recipe back to German Cookies Homepage
Back to German Recipes Homepage