German Recipe for Potato Salad
(with Mayonnaise)
In Northern Germany, a traditional recipe for potato salad will typically have a creamy consistency. This creaminess is achieved by the use of mayonnaise or, sometimes, yogurt or heavy cream. Of course, as with the non-dairy variety, there is no standard blend of ingredients that makes the perfect potato salad. Every region and city will present its own special version as the best recipe for potato salad. Whether you add pickle, apple, hard-boiled egg, radish, or any combination of them, this mayonnaise-based recipe and the optional additions given will allow you to decide for yourself what taste combination is best.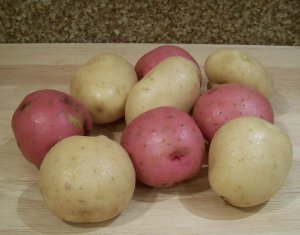 Basic Ingredients:
2 lbs of Boiling Potatoes (Round White or Round Red)
1 medium-sized White Onion
3/4 cup Beef Broth (homemade or from bouillon)
Salt and Pepper to taste
Pinch of Sugar
1 cup of Mayonnaise
2 Tbsp of minced Parsley
Optional Ingredients:
Optional Addition 1:
2 Apples (diced)
Optional Addition 2:
3 medium Dill or Sweet Pickles (diced)
3/4 cup Pickle Juice (in place of Beef Broth)
Optional Addition 3:
5 Hard Boiled Eggs (diced)
Optional Addition 4:
2 Tbsp of Capers
Optional Addition 4:
6 medium Radishes (halved and sliced)
Optional Addition 5:
6-8 ounces of Smoked or Pickled Herring (broken into chunks)
Instructions:
Wash Potatoes
Place unpeeled Potatoes in a saucepan and add enough water to cover
Cover pot and bring to a rolling boil on high heat
Reduce heat and simmer 20-25 minutes, until Potatoes are cooked but firm
Drain Potatoes and shock with cold running water to stop cooking
While they are still hot, peel Potatoes and set aside to cool
Halve cooled Potatoes lengthwise and slice into 1/8 inch thick half moons
Place Potatoes in large serving bowl
Peel and dice Onion
Add Onion (and/or any optional added ingredients) to serving bowl
Pour room temperature Beef Broth (or optional Pickle Juice) over Potatoes and Onions
Sprinkle Sugar, Salt, Pepper and Parsley over Potatoes and Onions
Gently fold bowl contents until mixed
Spread Mayonnaise over the top of salad with soft spatula
Gently fold salad again until Mayonnaise is evenly blended
Cover and move to refrigerator
Chill for at least one hour (overnight is best)
Taste before serving
Add Salt and Pepper if needed
Fold gently again
Serve
Share your experience with this recipe?
Did you try this recipe for yourself? Help other visitors by sharing your tips, variations, and photos.
From German Recipe for Potato Salad (with Mayonnaise)
back to Potato Salads Page

Back to German Recipes Homepage