Hot German Potato Salad Recipe
(Warm Potato Salad)
When we talk about warm or hot German potato salad recipes, we are really talking about potato salad that is served fresh after making or at room temperature, as opposed to chilled potato salad, which is prepared ahead of time and refrigerated. Nearly any of the vinegar and oil potato salad varieties can be served warm, but this recipe, with onion and bacon, is my favorite and makes a great warm side for any German meal. Added bonus: it also tastes great chilled the next day, if there are any leftovers.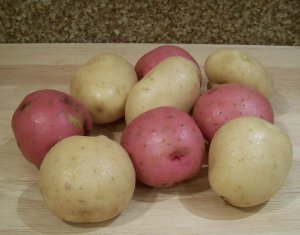 Ingredients:
2 lbs of Boiling Potatoes (Round White or Round Red)
1 medium White Onion
4 thick-cut slices of Bacon
2 Tbsp of Butter
4 Tbsp of Vegetable Oil
4 Tbsp of White Wine Vinegar
Salt and Pepper to taste
1/2 cup of Beef Broth (homemade or from bouillon)
2 Tbsp of minced Parsley
Instructions:
Wash Potatoes
Place unpeeled Potatoes in a saucepan and add enough water to cover
Cover pot and bring to a rolling boil on high heat
Reduce heat and simmer 20-25 minutes, until Potatoes are cooked but firm
Drain Potatoes and shock with cold running water to stop cooking
While they are still hot, peel Potatoes and slice into 1/8 inch discs
Place sliced Potatoes in large serving bowl and partially cover
Melt Butter in a hot skillet
Dice Bacon and add to skillet
Peel and dice Onion and add to skillet
Sauté until Onions are golden yellow
Pour hot cooked Bacon and Onion over sliced Potatoes
In a bowl, whisk together Oil and Vinegar
Mix in Salt and Pepper
Pour over sliced Potatoes
Heat Beef Broth to Boiling
Pour hot Broth over sliced Potatoes
Gently mix salad
Garnish with Parsley
Serve
Share your experience with this recipe?
Did you try this recipe for yourself? Help other visitors by sharing your tips, variations, and photos.
Other Visitors' Experiences with this Recipe
Click below to see feedback and photos from other visitors...

potatoes and oil Not rated yet
I prefer to use Yukon Gold potatoes; they are a bit waxier and hold up better. I also don't use any oil. I use a whole pound of bacon and add some additional …
a little tip Not rated yet
This is the first recipe I ever saw using beef broth like my sister in law tought me. Great!!! It gives good flavor to the potatoes. It was always my …
Great recipe Not rated yet
Great recipe and my favorite! For my family it was not Sunday if mom didn't make this potato salad. I make it fairly often but add the beef broth to the …
From Hot German Potato Salad Recipe back to Potato Salads Page

Back to German Recipes Homepage