German Potato Salad Recipe
(with Vinegar and Oil)
German potato salad recipes vary greatly by region, and even city to city. Throughout most of southern Germany, Austria and much of southern Europe, potato salads tend to have a dairy-free, broth, vinegar and oil base. This basic starting blend can then be tweaked regionally with additional ingredients. This recipe is for the basic salad and several of the more common variants, including the addition of bacon and onion, cucumber, or pickle.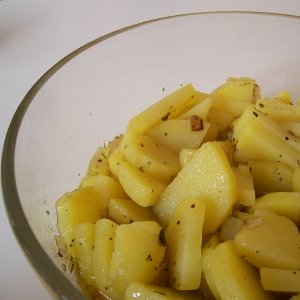 Standard Ingredients:
2 lbs of Boiling Potatoes (Round White or Round Red)
4 Tbsp of Vegetable Oil
4 Tbsp of White Wine Vinegar
Salt and Pepper to taste
1/2 cup of Beef Broth (homemade or from bouillon)
1 Tbsp of minced Parsley
Optional Ingredients:
Optional Addition 1:
2 Tbsp of Butter
1 medium White Onion (peeled and diced)
4 thick-cut slices of Bacon (diced)
Optional Addition 2:
1-2 cups of Cucumber (peeled and thinly sliced)
Optional Addition 3:
3 medium Dill or Sweet Pickles (diced)
Instructions:
Wash Potatoes
Place unpeeled Potatoes in a saucepan and add enough water to cover
Cover pot and bring to a rolling boil on high heat
Reduce heat and simmer 20-25 minutes, until Potatoes are cooked but firm
Drain Potatoes and shock with cold running water to stop cooking
While they are still hot, peel Potatoes and set aside to cool
Halve cooled Potatoes lengthwise and slice into 1/8 inch thick half moons
Place Potatoes in large serving bowl

In a bowl, whisk together Oil, Vinegar and Beef Broth
Mix in Salt, Pepper and Parsley
Pour over sliced Potatoes (also add any optional ingredients)
Gently mix salad
Chill for at least 1 hour (overnight is best)
Taste prior to serving
Add Salt and Pepper if needed
Gently fold again
Serve
Optional Instructions for Option 1:
Do the following after placing sliced Potatoes in serving bowl
Melt Butter in a hot skillet
Dice Bacon and add to skillet
Peel and dice Onion and add to skillet
Sauté until Onions are golden yellow
Pour hot cooked Bacon and Onion over sliced Potatoes
Share your experience with this recipe?
Did you try this recipe for yourself? Help other visitors by sharing your tips, variations, and photos.
Other Visitors' Experiences with this Recipe
Click below to see feedback and photos from other visitors...

Beef broth? Not rated yet
Why in heavens would you need broth in a potato salad. The one I remember my mother-in-law making used vinegar, sugar, oil, onion and potatoes! Nothing …
Perfect! Not rated yet
My mother was from Berlin and she would make this salad. Sadly I never paid attention to how she did it and she is now deceased. I tried this recipe, …
From German Potato Salad Recipe (with Vinegar and Oil)
back to Potato Salads Page

Back to German Recipes Homepage