Spaetzle Recipe
(Small Flour and Egg Dumplings)
This German Spaetzle recipe is for just one of the many wonderful dumpling varieties that German cooks have to choose from when planning a meal. These small, lightly savory dumplings are best served with entrees that are covered in sauce, as the relatively plain Spaetzle will readily take on the sauce flavor. Perfect with Jaegerschnitzel, Goulash and many other dishes.
Although using a specially-designed Spaetzle maker can help to speed the cooking process along, it is absolutely not necessary. Some cooks also use a special Spaetzlebret, or Spaetzle Board, which is basically just a small wooden cutting board with a beveled edge. I prefer this method, and use a standard cutting board. For decades, my grandmother and mother have made this delicious Spaetzle recipe using the spoon method, which simply involves using a teaspoon to scoop small amounts of batter up, and pushing them into the water with your finger. Time consuming, but pretty much fool proof. If you are using a Spaetzle maker, you may need to add water or flour to adjust the consistency of the Spaetzle batter so that It flows through the maker at the right speed for you to control the dumpling size. Dough for a Spaetzle Maker or the Spoon Method works best if it is fluid and sticky, while I prefer working with a less tacky dough for the Board Method. Adjust flour and water amounts to find the right consistency for your preferred method.
Dumpling size is really a question of personal preference. I have been served pea-sized Spaetzle at German restaurants, which do a great job of soaking up the sauce, but really tend to lose any hope of passing along their own flavor and consistency. If you prefer that tiny version, this Spaetzle recipe will still work well, but I would suggest that you definitely invest in a Spaetzle maker, as the spoon or board methods would be nearly impossible and far too time consuming. Some Germans also prefer "monster" Spaetzle that are finger think. Personally, I think there are much more flavorful large dumpling in the German repertoire, if you are looking for large dumplings. Because of the general blandness of the Spaetzle batter, I recommend a dumpling size that starts out about pencil-thick on the board, or uses 1/2 to 1/3 of a teaspoon of batter for each one with the spoon method. This size is quite manageable to make by hand or with most Spaetzle makers. It also allows each dumpling to soak up plenty of flavorful sauce without completely losing its own flavor and texture.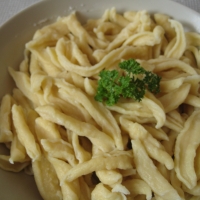 Batter Ingredients:
3 cups Flour
4 Eggs
1 tsp Salt
1/4 cup Warm Water
*Add flour or warm water as needed to get the perfect consistency for your method.
Instructions:
Pour Flour into large mixing bowlLightly beat eggs
Mix Salt into Eggs
Add Egg to Flour and beat until smoothly mixed
Add Warm Water until desired consistency it achieved
Fill large pot halfway with water and bring to light boil
Using your desired method, form dumplings and drop into water
Allow to cook until all dumplings are floating freely
Move to serving dish with skimmer or slotted spoon
Repeat for remaining dough
Drain excess water from serving dish before serving
Try them with Jaegerschnitzel, Goulash or any other saucy dish.
Share your experience with this recipe?
Did you try this recipe for yourself? Help other visitors by sharing your tips, variations, and photos.
Other Visitors' Experiences with this Recipe
Click below to see feedback and photos from other visitors...

soup egg dumplings, rivili?

Did anyone's mamma or ohma make a type of egg dumpling called rivili for chicken soup? Not spaetzle or egg drop soup stuff...nice consistency & more flavor …
Spaetzle the Natural Way Not rated yet
The most tender spaetzle are made by smoothing the batter 1/4 inch thick on a wet wooden cutting board and cutting them 1/4 - 1/2 inch thick across the …
From Spaetzle Recipe
Back to Dumpling Recipes


Back to German Recipes Homepage