Serviettenknoedel Recipe
(Steamed and Fried Bread Dumplings)
This German Serviettenknoedel recipe is a variation of bread dumpling that takes its name from the cloth napkin traditionally used to wrap it for cooking. The sliceable loaf form of Serviettenknoedel make them great for varied portion sizes, and the slices are great fried for an extra touch of flavor. The addition of bacon and nutmeg also means that these dumplings have a fuller stand-alone flavor and can be enjoyed with or without sauce.
Perfect with Jaegerschnitzel, Goulash and many other dishes.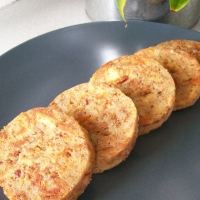 Ingredients:
8 cups of cubed Bread (Baguette or Hard Rolls)
3 Eggs
4 Strips of Bacon
1 cup Milk
1/2 tsp Salt
1/2 tsp Ground Nutmeg
1 Tsp finely minced Parsley
2 Tbsp Butter for optional frying
Instructions:
Fry Bacon and set aside to cool
Heap Cubed Bread in a large mixing bowlLightly beat Eggs
Mix Eggs, Milk, Nutmeg, Parsley and Salt
Thoroughly wash hands
Pour mixture over Cubed Bread
Use your hands to blend, mix and mash mixture
Continue mashing until evenly moist
Be sure to mash or remove any dry pieces in mixture
Finely dice Bacon strips and sprinkle over mixture
Knead Bacon into mixture until evenly distributed

Form mixture into tightly-packed loaf, 2-3 inches in diameter
Wrap loaf tightly in cloth napkin or clean, thin dish towel and set aside for 1 hour
Fill large pot halfway with water and bring to boil
Set Dumpling Roll in boiling water
Cover
Allow Roll to cook/steam for 25-30 minutes
Lift Roll from pot and allow to cool for 5 minutes
Carefully unwrap Dumpling Roll
Slice and serve, or slice, brown both sides in a hot skillet, and serve
Great with Jaegerschnitzel, Goulash, or any other saucy dish. Or add several slices to a bowl of beef, chicken, or vegetable broth for a delicious Serviettenknoedelsuppe
Share your experience with this recipe?
Did you try this recipe for yourself? Help other visitors by sharing your tips, variations, and photos.
Other Visitors' Experiences with this Recipe
Click below to see feedback and photos from other visitors...

Servietten Knoedel w Goulash Not rated yet
We just had this Servietten knoedel with Goulash for the first time, our German friends came and cooked for us. They couldn't tell exactly what was in …
From Serviettenknoedel Recipe
Back to Dumpling Recipes


Back to German Recipes Homepage