Jägerschnitzel / Jaeger Schnitzel Recipe
(Cutlet w/ Mushroom Cream Sauce)
This Jaeger Schnitzel recipe is all about the delicious creamy mushroom gravy or sauce. Literary translated as "Hunter cutlet", this variation adds the moist and rich flavor of a white wine cream sauce with mushrooms and onions.
The cutlet itself varies depending on where you order it. Sometimes it will be a veal Wiener Schnitzel with the gravy, and sometimes it will be a natural cutlet (no breading). This recipe uses floured cutlets, but feel free to substitute the Wiener Schnitzel recipe, if you prefer a breaded cutlet.
With the sauce already on hand, Spaetzle, Semmelknoedel, or Serviettenknoedel will make for an excellent side with your Jaeger Schnitzel.
For a simpler, if less traditional, preparation of the sauce, feel free to use a mushroom soup, mushroom pasta sauce, or mushroom gravy mix. Heh, we don't always have time to do everything from scratch. :)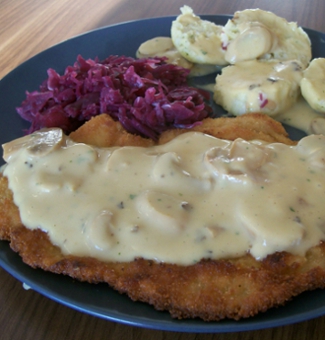 Standard Ingredients:
4 half-inch thick Veal or Pork Cutlets
1/2 cup Flour
6 (4+2) Tbsp of Vegetable Oil
1 lb of Brown Mushrooms
1 large White Onion
1/2 cup of Dry White Wine
1 1/2 cups of Sour Cream
Salt and Pepper to taste
Instructions:
Trim and clean cutlets
Pound cutlets to 1/4 t0 1/8 inch thickness
Cover pounded cutlets with plastic wrap and set aside
Peel and slice Onion into rings
Clean and slice or halve Mushrooms
Heat 2 Tbsp of Oil in a large skillet on medium heat
Sauté Mushrooms and Onions in skillet until Onions are golden brown
Add White Wine to skillet
Reduce heat to low
Stir Sour Cream into skillet mixture
Add Salt and Pepper to taste
Cover skillet and leave on low heat
Spread Flour on a dry plate or cutting board
Heat 4 Tbsp of oil in a large pan on high heat
Flour all cutlets on both sides
Fry cutlets until browned (2-3 minutes per side)
Salt lightly while frying
Place cooked cutlets in covered skillet to keep warm
Place one culet on each plate and top with cream sauce
Serve with Spaetzle
Share your experience with this recipe?
Did you try this recipe for yourself? Help other visitors by sharing your tips, variations, and photos.
Other Visitors' Experiences with this Recipe
Click below to see feedback and photos from other visitors...

Wine... what kind Not rated yet
Often recipes will call for Dry White Wine, other will note, Red Wine. Since I do not drink, I have no idea what this means - nor what to do buy. Can …
Bad!! Not rated yet
This is not what I was accustom to when I lived in Germany. The sauce was always brown and full of flavor. This sauce had no taste no matter how much salt …
Try it with moose Not rated yet
I love Jagerschnitzel, but I'm an Alaskan, so I don't do store bought meat much. I can tell you this is just, if not more, awesome with moose as the meat. …
EASY AND EXCELLENT Not rated yet
This sounded more difficult than it actually was, so I had a free Saturday afternoon and tried it out. My husband had invited people to dinner, so I doubled …
lower fat version Not rated yet
use yoghurt instead of cream, then add white sauce thickener. lovely!
From Jaeger Schnitzel Recipe
Back to Schnitzel Recipes Page

Back to German Recipes Homepage