Holsteiner Schnitzel Recipe
(Cutlet with Fried Egg)
There is nothing quite like the Holsteiner Schnitzel recipe. A Schnitzel like this variation with fried egg, sardines and capers is a far cry from the neutral flavor of most popular Schnitzel recipes. Of course, if you are not a fan of sardines, you can always skip them. Still, the complete combination is worth trying.
If you are curious how anyone came up with such an interesting combination of schnitzel toppings, you can credit the northern Germans. Schleswig-Holstein is the northernmost German state, bordered by Denmark to the north and open sea to the east and west. Indeed, locally caught fish such as herring and sardines have long been a staple in the diet of these coastal people. How the egg and capers found there way in is not as logical.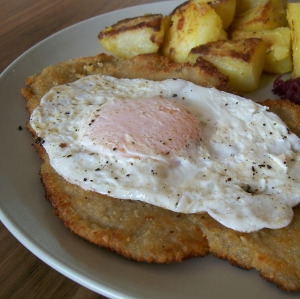 Standard Ingredients:
4 half-inch thick Veal or Pork Cutlets
1/2 cup Flour
4 Tbsp of Vegetable Oil
Salt and Pepper to taste
4 large Eggs
1 tin of Sardines in Oil
1 Tbsp of Capers
Instructions:
Trim and clean cutlets
Pound cutlets to 1/4 t0 1/8 inch thickness
Salt and Pepper cutlets lightly and set aside
Rinse Sardines and Capers with cool water to remove excess salt
Set Sardines and Capers aside
Spread Flour on a dry plate or cutting board
Heat 4 Tbsp of oil in a large pan on high heat
Flour one cutlet on both sides
Fry cutlet until browned (2-3 minutes per side)
Salt lightly while frying
Place cooked cutlets on paper towels to drain oil
Repeat process for each cutlet
Pour off hot oil
Fry four Eggs sunny side up (leave yolks runny)
Top each cutlet with a Fried Egg
Arrange 2-3 Sardines around each Yolk
Sprinkle Capers evenly over four Schnitzels
Serve
Share your experience with this recipe?
Did you try this recipe for yourself? Help other visitors by sharing your tips, variations, and photos.
From Holsteiner Schnitzel Recipe
Back to Schnitzel Recipes Page


Back to German Recipes Homepage