Wiener Schnitzel Recipe
(Breaded Veal Cutlet)
This German Wiener Schnitzel recipe is for what most people think of when they hear the word Schnitzel. The flour, egg, breadcrumb combination makes for a crisp and delicious crust on the meat. Although it is traditionally made with veal, cost and flavor have many cooks substituting veal with pork. Try both meats and see which one you prefer.
When ordering a Wienerschnitzel in a restaurant, it can be a real mystery as to what might actually arrive at the table. Even in Germany, I have received everything from rubbery 1/2-inch think slabs to thin wafers burnt to a crisp. To avoid either of these scenarios when preparing them at home, you must pay careful attention to the pound and the oil temperature.
When pounding the cutlets, I find it really simplifies clean up and helps prevent too much tearing of the meat to place the cutlet in a freezer bag while pounding. Then you really have to make some noise. Tapping the meat will not do. A 1/2-inch think cutlet should be pounded out until it roughly triples in size. Still, be careful not to over pound it and end up with something paper thin and see-through, as you will lose all texture in your Schnitzel.
When frying for this Wiener Schnitzel recipe, I suggest using enough oil or fat to cover the entire pan, but not so much that the cutlet is covered in oil while frying. We want to fry one side at a time. Keep in mind that the Schnitzels will absorb oil while frying, so use more in the beginning if you will be frying a large amount. If you find your pan is running dry and you still have cutlets to fry, add a bit more oil or fat and give it a minute or two to get up to frying temperature before placing the next breaded cutlet in the pan.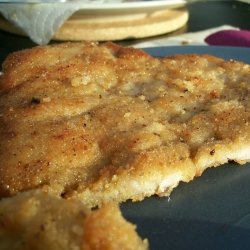 Standard Ingredients:
4 half-inch thick Veal or Pork Cutlets
1/2 cup Flour
1 large Egg
1 cup of Dry Breadcrumbs
4 Tbsp of Vegetable Oil
Salt and Pepper to taste
2 whole Lemons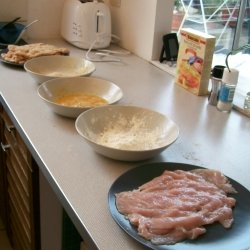 Instructions:
Trim and clean cutlets
Pound cutlets to 1/4 t0 1/8 inch thickness
Salt and Pepper cutlets lightly and set aside
Spread Flour on a dry plate or cutting board
Beat Egg in large shallow container
Spread Breadcrumbs on another dry plate or cutting board
Heat 6-8 Tbsp of oil in a large pan on med-high heat
Flour one cutlet on both sides
Flip floured cutlet in Egg
Cover Egged cutlet heavily in Breadcrumbs
Fry cutlet until browned (2-3 minutes per side)
Salt lightly while frying
Place cooked cutlets on paper towels to drain oil
Repeat process for each cutlet
Serve each cutlet with freshly cut lemon halves or quarters
Share your experience with this recipe?
Did you try this recipe for yourself? Help other visitors by sharing your tips, variations, and photos.
Other Visitors' Experiences with this Recipe
Click below to see feedback and photos from other visitors...

From Wiener Schnitzel Recipe
Back to Schnitzel Recipes Page

Back to German Recipes Homepage