Pariser Schnitzel Recipe
(Cutlet with Flour and Egg)
This Pariser Schnitzel recipe, with its flour and egg-wash crust, would have us believe that the Parisians are not as fond of breadcrumbs as the Viennese. Whether that is true or not, the Pariser Schnitzel provides another cooking option for any meat cutlet you prefer to serve.
As with the other Schnitzel types, one of the keys to an excellent Pariser Schnitzel is the pounding. You can't be afraid to make a little noise and put a little muscle into it. Ideally, a 1/2-inch think cutlet will be pounded out to about three times its original size prior to frying. Don't stress if you create a few holes or rips in the meat while pounding, but try not to overpound and end up with a paper-thin sheet of meat that will have no meat texture once fried.
Bratkartoffeln or Salzkartoffeln will make an excellent side with this Pariser Schnitzel.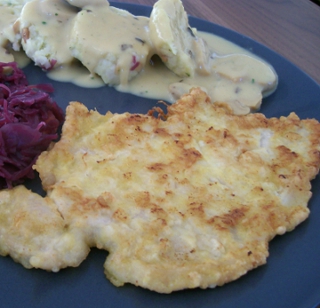 Standard Ingredients:
4 half-inch thick Veal or Pork Cutlets
1/2 cup Flour
1 large Egg
4 Tbsp of Vegetable Oil
Salt and Pepper to taste
2 whole Lemons
Instructions:
Trim and clean cutlets
Pound cutlets to 1/4 t0 1/8 inch thickness
Salt and Pepper cutlets lightly and set aside
Spread Flour on a dry plate or cutting board
Beat Egg in large shallow container
Heat 4 Tbsp of oil in a large pan on high heat
Flour one cutlet on both sides
Flip floured cutlet in Egg
Fry cutlet until browned (2-3 minutes per side)
Salt lightly while frying
Place cooked cutlets on paper towels to drain oil
Repeat process for each cutlet
Serve each cutlet with freshly cut lemon halves or quarters
Share your experience with this recipe?
Did you try this recipe for yourself? Help other visitors by sharing your tips, variations, and photos.
Other Visitors' Experiences with this Recipe
Click below to see feedback and photos from other visitors...

Parisian Schnitzel = YUM... Not rated yet
Thanks for posting this recipe... I'd almost forgotten about Parisian schnitzel... My dad used to make it at our German restaurant every once in awhile... …
From Pariser Schnitzel Recipe
Back to Schnitzel Recipes Page


Back to German Recipes Homepage