Mushroom Soup Recipe
(Pilzsuppe)
This broth-based mushroom soup recipe is every bit as flavorful as any of its creamy counterparts, and much easier on the waistline. Although the recipe calls for brown mushrooms or baby bellas, try substituting your favorite mushroom variety. I am sure it will be just as delicious.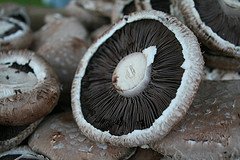 Ingredients:
1 lb of Brown Mushrooms(or Baby Bellas)
3 Tbsp Butter p>
1 Tbsp diced Onion
1 Tbsp minced Parsley
3 Tbsp of Flour
5 cups of Water
Salt
Instructions:
Clean and thinly slice Mushrooms
Melt butter in the bottom of soup pot on medium-high heat
Add Onion, Parsley, and Mushrooms to soup pot
Sauté until Mushrooms are tender
Add Flour and stir until uniform
Slowly stir in Water
Salt to taste
Bring soup to a boil
Simmer for 15-20 minutes
Serve
Share your experience with this recipe?
Did you try this recipe for yourself? Help other visitors by sharing your tips, variations, and photos.
Other Visitors' Experiences with this Recipe
Click below to see feedback and photos from other visitors...

Didn't make enough! Not rated yet
I made this soup today following the recipe except for using 1 less cup of water and it was SOOOO good I ate the whole pot!! Now I have to make another …
Excellent! Not rated yet
This recipe was outstanding! I altered the ingredients a little bit: using about a cup less of water, more flour, and some garlic powder. The more mushrooms …
From Mushroom Soup Recipe back to Soup Recipes Page

Back to German Recipes Homepage