Cabbage Soup Recipe
(Krautsuppe)
This simple German cabbage soup recipe has a truly traditional flavor.

Cabbage (Kraut) is recognized by most people as a typical element of German cooking. Although sauerkraut is likely the most familiar use of cabbage, it is widely used in most German kitchens. This delicious soup is another example of German cabbage cuisine.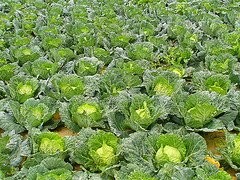 Ingredients:
1 head of Cabbage
3 slices of Bacon
2 medium White Onions
2 cloves of Garlic
3 cups Vegetable or Chicken broth (homemade or from bouillon)
3 cups Water
3 large Carrots (yellow carrots if available)
2 large Russet Potatoes
1 stalk of Celery
3 Sprigs of Parsley
1 Bay Leaf
Salt and Pepper to taste
Instructions:
Clean and shred Cabbage
Peel and slice Onions and Garlic
In soup pot, lightly fry finely-cut Bacon
Lightly saute Onion and Garlic with Bacon in soup pot
Add Broth and Water to soup pot
Wash and slice Carrots and Celery
Peel and dice Potatoes
Add Cabbage, Carrots, Potato, Celery, Parsley and Bay Leaf to soup pot
Bring to a boil and simmer, partially covered, for 1 ½ hours
Remove Parsley and Bay Leaf
Salt and Pepper to taste
Serve
Share your experience with this recipe?
Did you try this recipe for yourself? Help other visitors by sharing your tips, variations, and photos.
Other Visitors' Experiences with this Recipe
Click below to see feedback and photos from other visitors...

Amazing soup Not rated yet
Ive made this recipe twice now because it is so good. The first time i made it i stuck to the recipe to see how it would turn out. I added 5 peices of …
Great soup full of flavor Not rated yet
This is exactly what we were looking for. A healthy and yet hearty soup that wasn't full of cream, just flavorful ingredients. I love the way that the …
From Cabbage Soup Recipe back to Soup Recipes Page

Back to German Recipes Homepage