Potato Soup Recipe
(Kartoffelsuppe)
This traditional potato soup recipe is not only easy to prepare, but it is also the one I found that most reminds me of the soup my Oma used to serve for lunch on some of those cold winter days.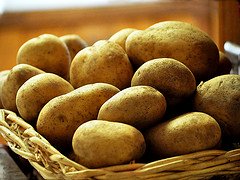 Ingredients:
5-6 large Russet Potatoes
2 medium Carrots (yellow carrots if available)
1 stalk of Celery
1 Leek
Sprig of Parsley
1 White Onion
2 slices of Bacon (more fat the better)
2 Tbsp Lard or Butter
3 Tbsp Flour
8 cups Salt Water
Pinch of Marjoram
Salt and Pepper to taste
Instructions:
Peel and dice Potatoes
Slice Carrots, Celery, and Leek
Mince Parsley
Add above to Salt Water and bring to a slow boil in soup pot
Cook until Potatoes are tender
Chop Bacon into small pieces and fry in large skillet
Add Butter to skillet
Dice onion and sauté in skillet until browned
Add Flour to skillet and mix thoroughly
Cook skillet mixture on medium heat for 2 minutes
Slowly add 1 cup of liquid from soup pot to skillet
Stir until uniform
Add skillet mixture to soup pot
Stir in Marjoram
Simmer for 25 minutes
Ladle soup into food processor or blender and puree
Return to soup pot
Add water if thinning is needed
Salt and pepper to taste
Bring to a slow boil
Serve
Share your experience with this recipe?
Did you try this recipe for yourself? Help other visitors by sharing your tips, variations, and photos.
Other Visitors' Experiences with this Recipe
Click below to see feedback and photos from other visitors...

my childhood lunch Not rated yet
Wonderful memories....When I was in elementary school I would walk home for lunch. My Oma lived with my family and everyday she made potato soup for lunch.I …
Rave review Not rated yet
I made this for my Dad since he's had a lot of dental work done and is on a soft diet. My mother was German and since we've lost her, I try to make some …
Unique Recipe, Good on the Palette Not rated yet
I've never made a German recipe before, so I found this to be different that what I am used to - especially with pureeing the soup at the end. My family …
From Potato Soup Recipe back to Soup Recipes Page

Back to German Recipes Homepage