Asparagus Soup Recipe (Spargelsuppe)
This simple asparagus soup recipe allows the white asparagus (Spargel) to show its full flavor. When Germans cook with asparagus, it is often the thick and tender stalks of white asparagus, which are specially grown to be less bitter than the typical green asparagus we encounter in the US.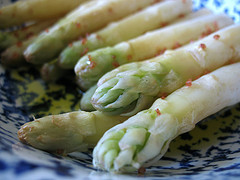 Ingredients:
1 lb White Asparagus (Spargel)
8-10 cups Saltwater
3 Tbsp Butter
3 Tbsp Flour
5 cups Asparagus Water (from above)
Salt and Pepper to taste
1 Egg
Instructions:
Clean and trim Asparagus
Cut Asparagus into 1-inch pieces
Bring 8-10 cups of Salted Water to a boil
Cook Asparagus in Saltwater until tender
In separate soup pot, melt Butter on medium-high heat
Add Flour to hot Butter and stir until yellowed
Slowly stir in 5 cups of Saltwater from Asparagus pot
Salt and Pepper to taste
Bring soup to a boil
Add cooked Asparagus to soup pot
Beat Egg and add slowly to boiling soup while stirring
Serve
Share your experience with this recipe?
Did you try this recipe for yourself? Help other visitors by sharing your tips, variations, and photos.
Other Visitors' Experiences with this Recipe
Click below to see feedback and photos from other visitors...

add a touch of... Not rated yet
...nutmeg and in place of one cup salted water, add 1 cup cream -- and it's almost as good as in Schwetzingen, Germany, the Spargelkremesuppe, capitol …
From Asparagus Soup Recipe back to Soup Recipes Page

Back to German Recipes Homepage